Injured pigeons are often seen lying in the street after hitting a car's windshield or fighting with cats, dogs, or other predators. Come across a wounded pigeon and think it needs help. You can either take it home or take it to a local veterinarian or wildlife rehabilitation center to determine its level of injury. This article will discuss what to do with an injured pigeon in different situations to reduce its suffering.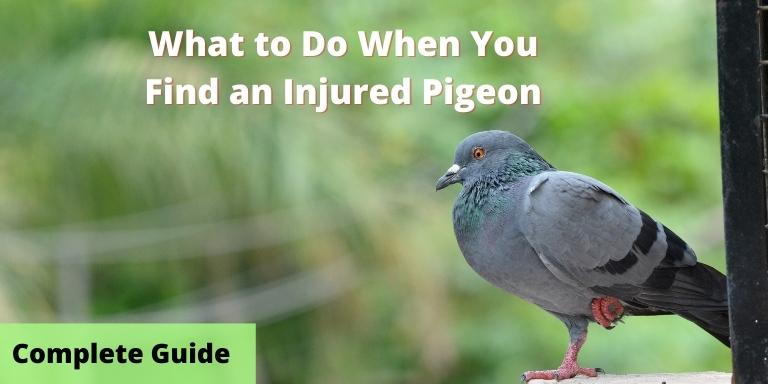 What to Do When You Find an Injured Pigeon
If you encounter an injured pigeon and think it requires help, you can do the following things.
Examine the pigeon if it needs help
Notice the injured bird for some time if it needs help. If a pigeon is hurt, it will be quiet and unresponsive. The bird will look dull and will keep its eyes closed or half-open.
Besides, it will not breathe normally. The pigeon's wing can be bent unusually with fluffed-up feathers. If you notice these symptoms, approach the pigeon slowly. If it does not fly or walk away, it may be badly injured and needs help.
Pick up carefully
Pick the injured pigeon carefully with both hands. The bird may have more wounds that you cannot see. So handle it very gently. If you cannot see any major wound, you can take it to your home.
But it will be best if you can take the bird to a local veterinarian. Especially the pigeons need special care and medical treatment that they can get only at a veterinary clinic.
How to take care of an injured pigeon at home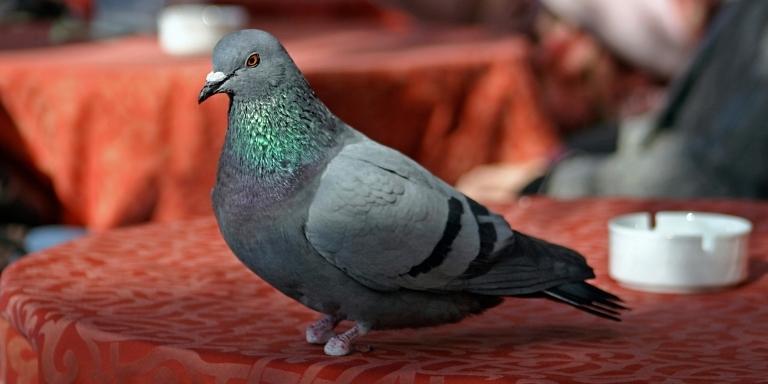 If you find an injured pigeon with minor injuries in the garden, backyard, or near the house, you can try to cure it at home. When you are taking it home, it is better to put it in a box or crate so that it does not try to escape.
Keep the pigeon in a semi-dark warm place
Keep the carrier in a quiet, semi-dark place to make the pigeon feel at ease. The place should be warm and humid where the temperature is between 25-30 degrees. You can make a layer of clean clothes or some newspaper on the carrier.
Keeping a hot water bag beneath the clothes will help to keep the bird warm in a cold place. You can also keep a hot water bottle wrapping in a cloth near the bird.
After that, let the bird be alone and notice it from distance. Your presence may make the bird more distressed.
Offer the dehydrated pigeon water or other drink
The injured pigeon may not have drunk water for a long time. So offer it some water to drive the bird energetic quickly, and offer it an electrolyte solution of 2 cups of warm water, 2 tbsp brown sugar/molasses/honey, and 1/2 tsp. salt. Put the solution in a deep bowl or cup so that the pigeon can dip its beak to suck the drink.
Take the bird to a veterinarian if it refuses to drink or eat
If the pigeon does not drink or eat, there may be more serious health issues. In that case, take the bird to a local veterinarian immediately.
What Do You Do With a Pigeon That Cannot Fly?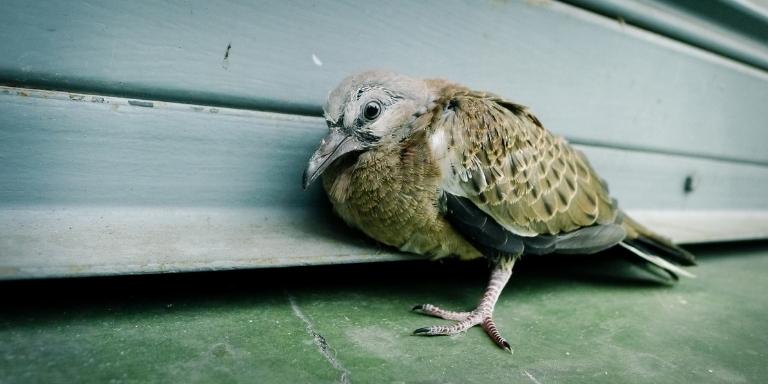 If you notice a pigeon that is trying to fly but falling or dragging, it may have broken its wing. If you examine the bird, you may notice blood or protruding bone around the wings. A broken wing can also heal naturally if the bones or muscles are not seriously damaged.
If the wound is serious, take the pigeon to a veterinarian. A veterinarian can repair the wing if it is not beyond recovery. If the injury is serious, the pigeon can be permanently handicapped.
Can a pigeon survive with a broken wing?
A pigeon can survive if the skeleton is not badly damaged along with the wing. An experienced veterinarian can fix a broken wing so that the bird can be released into the wild.
If you come across a bird with a broken wing, you should take it to a veterinarian rather than caring for it at home. The veterinarian will do an x-ray of the bird's wing to assess the level of damage and treat it.
Can a bird survive with just one wing?
A bird can survive with one wing but can not fly with only one wing. If the broken wing is not healed properly and the bird is freed into the wild, it may die for lack of food or by a predator's attack.
Can an injured bird heal itself?
An injured bird can heal itself naturally if the wound is minor. In most cases, the injury does not cause a bird's death. Birds would rather die from starvation or are killed by predators when injured and unable to fly.
Birds will need human help when they got serious wounds. Only then will they need surgery and further treatment to get back to normal life.
What to Do if You Find a Bird With a Broken Neck
If you come across a bird with a broken neck, you will not have much to do yourself. Try to take it to a veterinarian or a wildlife rehabilitation center immediately. Only the professionals in these places can treat and heal the broken neck.
While moving the bird to the clinic, try to keep the bird in a warm and secure carrier where air can circulate. If possible, keep a hot water pad or bottle under the carrier.
The carrier should be covered with a towel so that the bird does not feel stressed seeing crowds or lighting in the way. The veterinarian will first bring out the bird from shock and then treat the wound.
How Do You Know if a Bird Is in Shock
Sometimes birds encounter predators and luckily escape from them. But they go into shock. Birds in shock will look weak and fluffed up. They will be unresponsive during that time. If you think that a bird is in shock, check if it is having difficulty breathing and its eyes are closed/half-closed.
To know if the bird is dead or in shock, you have to notice it closely. Examine the bird's feet and legs if the muscles have got stiff. The body of the dead bird will also get quite stiff. If the bird is just in shock, its muscles will remain relaxed.
Both the dead and shocked birds' eyes can be closed. But if the dead bird's eyes are open, there will be no blinking or any kind of movement in them. The feathers of the dead bird will cling together.
Who to Call When a Pigeon Is Injured in the UK
If you noticed an injured pigeon in your area, you could take it to a local veterinarian or humane society so that they can treat the bird. But if it is not possible for you, you can call RSPCA to rescue the bird. Besides, you can get quick help and advice on the forums.
If you cannot do something to help the injured bird, you can contact RSPCA. Connect to their RSPCA cruelty line ( 0300 – 1234 – 999 ) to inform them about the sick or injured pigeon.
However, RSPCA gets numerous calls for helping animals in distress, so they have to prioritize the cases in terms of seriousness. They discourage calling unless it is a genuine emergency and requires an officer to attend in person.
They will ask you a few questions and decide if an officer needs to pay a visit. RSPCA refers genuine animal welfare emergency as a situation where an animal is injured, sick, at life risk, or trapped, and no person can safely rescue it.
Injured Wild Birds and the Law in UK
In the wildlife and countryside law of 1981, in the UK, a person can take an injured wild bird to his place only to nurse it. He/she has to free the bird as soon as it becomes able to fly.
However, this act also approves killing a bird (to put an end to its pain) that is seriously wounded and cannot be recovered. According to the act, it is also lawful to kill permanently disabled birds which will otherwise die from starvation or the attack of predators.
Who to Call When a Pigeon Is Injured in the USA?
The American Society for the Prevention of Cruelty to Animals (ASPCA), the Humane Society of the United States (HSUS), and the American Humane Society are three national organizations in the USA that rescue animals and treat injured animals.
Besides, there are numerous non-profit rescue organizations in the US. If you find an injured pigeon, you can post the pigeon's photo, information, location, and question on the Palomacy Help Group for quick help.
Injured wild birds and the law in the USA
Keeping sick, injured, or disabled wild birds in possession for an extended period is a breach of USA law. You can only keep an injured wild bird till you can take it to wildlife rehabilitation centers.
The code of ethics of the National Wildlife Rehabilitators Association (NWRA) urges people to release injured wild animals as soon as possible after their treatment. In the cases of non-curable animals, euthanasia is a lawful action but only can perform by a licensed vet or technician.
Conclusion
Before doing something for an injured pigeon, you should ensure your action will reduce its suffering rather than worsen the situation. Though you know what to do with an injured pigeon, handling it will not be so easy if you haven't petted any bird before.
You might also be interested in: